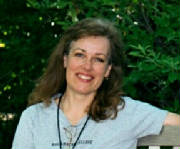 Zinta Aistars, Managing Editor
Zinta Aistars is the published author of three books. She is a publications editor and writer for a health care organization in Grand Rapids, Michigan, and was an editor and writer for LuxEsto, the Kalamazoo College alumni magazine for seven years prior to that. Her work has also appeared in the Kalamazoo Guide, Greater Guide of Southwest Michigan, Southwest Michigan Living, Kindred Spirits Magazine, Kalamazoo Gazette, County Wide News, Encore, Welcome Home, Parade of Homes, the Latvian newspaper Laiks, and the Latvian literary periodical, Jauna Gaita. She has published poetry, travel essays, stories, and articles in the United States, Latvia, England, Sweden, Germany, and Australia. Her work also appears on many ezines - including Xelas Magazine, Cezanne's Carrot, Amsterdam Scriptum, Boston Literary Magazine, Outsider Ink, The Sidewalk's End, Ghoti Fish, Menda City Review, Megaera Magazine, T-Zero, Fiction Attic, Saucy Vox, Ash Canyon Review, ThothWeb, Flash Me Magazine, Spoiled Ink, 63 Channels, Her Circle Ezine, Ascent Aspirations Magazine, The Redbridge Review, River Walk Journal, Flashquake, milk magazine, The Surface, BookCrossing, Serene Light, Word Riot, Burning Word, The Moon, insolent rudder, Bobbing Around, coilMagazine, Poems Niederngasse, The Paper, Poetry Life & Times, QuietPoly Writer's Magazine, Midwest Book Review, Write Sight and others. Zinta is also poetry editor at Her Circle Ezine and on the editorial board of insolent rudder.
Join Zinta and read her work on MySpace and at her blog!
~~~~~~~~~~~~~~~~~~~~~~~~~~~~~~~~~~~~~~~~~~~~~~~~~~~~~~~~~~~~~~~~~~
J. Conrad Guest and best canine buddy, Guinnez
J. Conrad Guest's first novel, January's Paradigm, was published by Minerva Press, London, England. Current Entertainment Monthly in Ann Arbor, Michigan, wrote of January's Paradigm, "(readers) will not be able to put it down." He has two more novels based on the Joe January character, One Hot January and January's Thaw, being considered for publication, and earlier this year completed Backstop: A Baseball Love Story in Nine Innings. He is currently at work on a futuristic piece, Chaos Theory, exploring the conjecture of how the flap of a butterfly's wings in South America might result in a tornado in Texas. His fiction and essays appear in various online and print publications, including Cezanne's Carrot, Saucy Vox, River Walk Journal, 63 Channels, The Writers Post Journal, Redbridge Review, and Blood and Thunder: Musings on the Art of Medicine. J. Conrad's short essay on the writing life appears in the 2008 edition of Bylines Calendar — a 2006 finalist for the Walter Williams Award, given by the Missouri Writers' Guild. He is also a contributing writer to Impact Times, and his sports writing can be found at Bleacher Report.
Learn more about J. Conrad and read his blog at MySpace.
~~~~~~~~~~~~~~~~~~~~~~~~~~~~~~~~~~~~~~~~~~~~~~~~~~~~~~~~~~~~~~~~~~
Russell Rowland enjoying a good read
Russell Rowland's first novel, In Open Spaces (Harpercollins 2002) made the San Francisco Chronicle's bestseller list, and was named among the Best of the West by the Salt Lake City Tribune. Russell has an MA in Creative Writing from Boston University. He was a Writer-in-Residence at St. Mary's College and was a MacDowell fellow in 2005. The Watershed Years, the sequel to In Open Spaces, was published by Riverbend Publishing in 2007, and his short fiction has appeared in various anthologies, as well as the San Francisco Chronicle, the Big Sky Journal, failbetter.com, verbsap.com, and Roger. Russell currently teaches at MSU-Billings, as well as online with Gotham Writing Workshops. He also consults privately with other writers. Russell lives in Billings, Montana.
Join Russell on MySpace!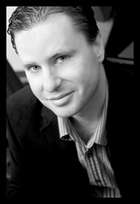 Dominic Smith
~~~~~~~~~~~~~~~~~~~~~~~~~~~~~~~~~~~~~~~~~~~~~~~
Dominic Smith grew up in Sydney, Australia and now lives in Austin, Texas. He holds an MFA in writing from the Michener Center for Writers at the University of Texas at Austin. His short fiction has appeared in The Atlantic Monthly and been nominated for a Pushcart Prize.

His awards include the Dobie Paisano Fellowship from the Texas Institute of Letters, the Sherwood Anderson Fiction Prize, and the Gulf Coast Fiction Prize. In 2006, his debut novel The Mercury Visions of Louis Daguerre was selected for the Barnes and Noble Discover Great News Writers Program. It also received the Steven Turner Prize for First Fiction from the Texas Institute of Letters. Dominic's new novel is The Beautiful Miscellaneous.