~~~~~~~~~~~~~~~~~~~~~~~~~~~~~~~~~~~~~~~~~~~~~~~~~~~~~~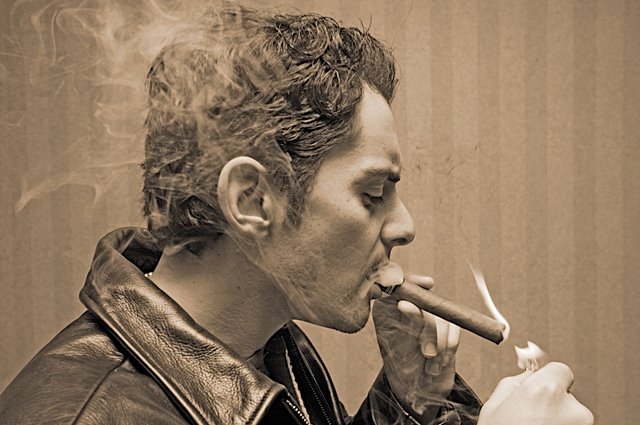 As a singer, songwriter and guitarist, Brad Paisley has few peers among country artists who have emerged during the past decade. This image was taken in New Orleans in the early morning hours of Fat Tuesday following a long night of throwing beads as the celebrity monarch of the 2005 Krewe of Orpheus Mardi Gras parade.
— Ed Rode, photographer
~~~~~~~~~~~~~~~~~~~~~~~~~~~~~~~~~~~~~~~~~~~~~~~~~~~~~~~~~~~
Ode to a Cigar
J. Conrad Guest
Hecho a mano;
Honduran-grown Cuban seed leaf unites
Nicaraguan and Honduran tabac.
Extra fuerte — leaf lover's delight.
Morning bean's Sancho Panza,
single malt's midnight denouement.
Erato reveals herself,
strike the cedar…
Let there be smoke!
Sexism in the Cigar Industry
Like it or not, sexism is alive and well in the 21st century. If you don't believe me, just consider the movies Hollywood turned out this year: Superbad, Knocked Up, and The Heartbreak Kid, just to name three. I haven't seen any of these—nor do I intend to—but I saw enough trailers to know that women's body parts in all three are the basis for the risqué humor that brought in over $300 million for these three movies alone.
Women in the 21st century boast that they've "come a long way, baby;" yet not only are they not yet on a par with men when it comes to equal pay for equal work, but they continue to be objectified in nearly every way imaginable and in every medium: from reality TV to beer and car commercials, from NFL cheerleaders to beauty pageants, from the Victoria's Secret fashion show to the Sports Illustrated swimsuit issue. There's Howard Stern, Playboy and pornography, and the fact that the plastic surgery industry is a multi-billion dollar business—wrinkles, sagging flesh and cellulite cause more fear in this country than global warming and the threat of another terrorist attack combined. And the tabloids think nothing of raining ridicule on Jennifer Love Hewitt in a swimsuit. And Tyra Banks is fat? Since when?
But sexism is becoming prominent in the cigar industry nowadays as more and more ads featuring sexy women appear in cigar magazines, too. My only interests in buying a cigar are the wrapper, its binder, the filler blend, and how long the leaf has been aged. Cigar smoking used to be a male-only activity, but with the introduction of flavored cigars, more women are indulging in the practice. Yet instead of catering to this new demographic with politically correct advertising, we have CAO Flavorettes. These girls, scantily clad representations of a certain flavored cigar, travel to cigar shows where attendees can sample specific blends based on the color of the bikini these Flavorettes wear. It's one thing to ask for a recommendation from a knowledgeable woman—someone who's been in the tobacco business for twenty years, learned it from the bottom up from her father or a favorite uncle—quite another to buy a stick based on the body parts of the woman pushing it. Other than a bourbon infused cigar, which is not the same as a flavored smoke, I don't know that any of my male friends smoke flavored cigars. So to whom are these Flavorettes supposed to appeal—certainly not women smokers? Perhaps to the men who buy flavored cigars for their partners? "Here, Honey, this blend looked good on the Flavorette at the cigar show, so I think you'll like it."
Yet the ad industry has been using sex to sell their products for years. Does anyone really buy a car because of the woman behind the wheel in the ad who asks, "The important thing in choosing a car is, when you turn it on, does it return the favor?"
Yet these ads must work; if they didn't they would find some other angle. Yet surely there must be some consumers who find them insulting. Why aren't more women outraged? It seems that more women measure themselves against the sexuality depicted on the small screen as today's norm.
When I was younger I thought I knew it all; when I turned forty I realized how little I really knew. My father told me that was wisdom. Wise or not, I'm over fifty now, and the wisdom of marketing cigars using women eluded me for a time—then it hit me like a bale of tobacco leaf: the industry couldn't care less about appealing to a seasoned leaf lover like me: they've got my dollar. Their worry is appealing to a much younger demographic, the one that will one day replace me. Now I understand how my father must've felt when he told me the world had passed him by—that his "the greatest" generation had been forsaken for the Baby Boomers because we had more disposable income. And so it goes: the capital baton being passed from the Baby Boomers to Generation X, as it will, eventually, from Generation X to the Millennium Generation.
I grew up watching Rob and Laura Petrie, who couldn't be shown onscreen in the same bed together. The twenty-somethings today, Generation X, grew up on MTV. If today's TV has desensitized the old fogy generation, what's it done to a generation who grew up on it? Sadly, little, which perhaps leaves the admen thinking they must further push the envelope in order to make their product memorable.
The pendulum, I fear, will never swing the other way—not until women, with the help of male feminists, stand up and refuse to be used as the objects they outwardly profess to abhor even as they inwardly, perhaps even unconsciously, seem to embrace the practice. Until that happens, expect the advertising industry to continue to use women in more and more risqué ways.
Smoke and Angels
by Laura Sobbott Ross
My father kept German Shepherds,
dogs named for gods and kings
kneeling at his side in old photographs.
How exquisite the residue of tobacco leaf
where his fingers stroked their throats
and eager offerings of underbelly.
My father's scent defied wind. Ethereal
as smoke, it was a cell in every blade of grass,
a howl in a wilderness ancient as blood to which
those fierce and nodding dogs would acquiesce.
We, the yellow haired children of the house
tottered between the hierarchy of dog to man,
became the sweet burden of early morning walks,
unearthed bones nosed beneath banana trees,
trampled the hibiscus with comprehending eyes
and drooling mouths and were never scolded for it.
Those dogs granted us an inroad, were satisfied
with the bits of barbequed meat tossed their way,
charred the way my father liked it.
They moved like cloud shadows across the patio,
dozed warm as sunlight on the cushions.
Where we they when he died?
Some green, green place without fences—
sniffing out the scent of Bolivar cigars.
~~~~~~~~~~~~~~~~~~~~~~~~~~~~~~~~~~~~~~~~~~~~~~~~~~~~~~~~
Laura Sobbott Ross is a freelance architectural designer. She was recently nominated for a 2007 Pushcart Prize, and has poetry published in New Millennium Writings, The Arkansas Review, The White Pelican Review, Kalliope, The Caribbean Writer, and the Baker's Dozen Literary Review, among others. She has poems forthcoming in The Sow's Ear Poetry Review, Wild Violet and The William and Mary Review. She also placed first for poetry in the 2006 Mount Dora, Florida Literary Festival and the Great Blue Beacon. Please see more of Laura's poetry on the Poetry 4 tab.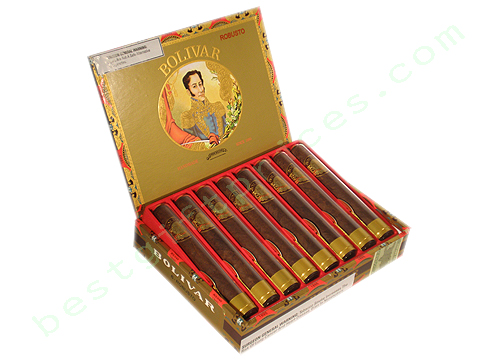 Bolívar Robusto
Cigar Review by J. Conrad Guest
Simón Bolívar was one of the most important leaders of Spanish America's successful struggle for independence from Spain collectively known as Bolívar's War in the early 19th century.
The history behind Bolívar cigars dates back to 1901, when it was founded by Jose F. Rocha in Great Britain. Registered in Cuba in 1921, Bolívar produced the world's smallest cigar, a 1 7/8" x 20 called the Delgado. Bolívar was bought in 1954 by the Cifuentes family, who in 1900 purchased the Partagás line of cigars, and moved production to the Partagas factory in Havana. After the Cuban Revolution, the Cifuentes family fled to the Dominican Republic, where today these tasty cigars are still made.
Bolívar cigars are composed of a flavorful Havano Medio Tiempo binder wrapped in an aged San Augustin Ligero wrapper, while the filler is a mix of Dominican and tobacco from the Esteli and Ometepe regions of Nicaragua. Bolívar cigars are a full bodied smoke, rivaling their Cuban counterparts in strength, but they have a smooth, creamy texture. Not recommended for the novice, I find they go well with a morning cup of coffee or in the late evening with an English ale.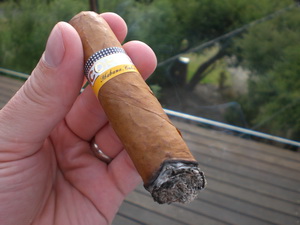 Cohiba Siglo VI
Cigar Review by David Haegens
I should preface this review with a disclaimer of sorts. I rank the Cohiba Siglo VI as the best of all modern Cuban cigars and easily my most preferred.
The Siglo VI has been criticized for alleged varying degrees of quality. To set the record straight, my experience with regard to quality has been impeccable and I always enjoy time spent smoking this cigar ─ its flawless oily wrapper and perfectly formed cap, as well as the stunning rich aroma, keeps me coming back time and time again. The Siglo VI lit superbly and right from the outset the even burn gave way to a draw that was cool and creamy.
This cigar offers smooth, creamy, almost chocolate overtones from the beginning, continuing to develop, growing stronger as I progressed. I settled in and enjoyed this cigar, with its structure remaining sound until the very end.
The tobacco used in the Siglo VI, grown in the Vuelta Abajo district, undergoes a third fermentation process which is one of the reasons the Siglo VI offers such smoothness. Nestled somewhere in the humid valleys of rich soil, between the limestone hills, lies a heartland of tobacco fields teaming with potential for greatness ─ and to think I am actually holding a small piece of this Cuba in my hand. What a cigar! The Cohiba Siglo VI is a full bodied classic and the epitome of what is adored in the Cohiba brand!
Overall, I'd rate this cigar a 9.9/10. Ninety minutes of smoking pleasure… and the perfect cigar!
Need
By Jason Mashak
Tables need people
the way I need you
The way a glass needs foam
at its rim
Or a barmaid's midriff
needs a little give
To help me forget
I'm out of cigarettes
To help me recall
I'druther smolder than smoke
you away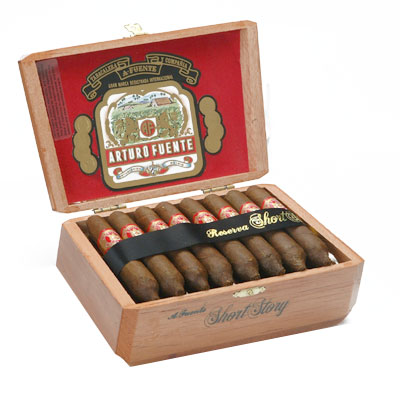 Arturo Fuente Hemingway Short Story
Cigar review by J. Conrad Guest
You don't have to be a fiction writer to enjoy this short smoke. The Hemingway line has been around since 1983, and the Short Story is the top seller (maybe they should change its name to Best Seller – wait, they have a Best Seller!). All Hemingway cigars are made from Dominican filler and binder and wrapped in a sweet West African Cameroon wrapper. I'm not a big fan of Cameroon wrappers, but on a Hemingway it works, which speaks volumes about the blend.
Of course what makes the Short Story unique is its perfecto shape. Measuring four-and-a-half inches from the nipple's tip to the crown of its head, the ring gauge runs between .46 at the head and .49 near the foot. Because of the workmanship involved in the construction and the fact that the cigars are aged a minimum of six months, it's understandable that a limited number of these little dandies are produced annually.
Care must be taken to light the nippled foot without scorching the wrapper, so I'd recommend a cedar match or lighting a piece of cedar from which to ignite the Short Story. From the first draw the Short Story's taste is sophisticated, with hints of cedar and spice, a touch of leather ─ smooth throughout, its slow burn never hot or bitter.
Like a well-written piece of short fiction one enjoys for its language, never wanting to turn the last page, the Hemingway Short Story, too, should be enjoyed leisurely; at smoke's end you'll be remiss to set the Short Story down in your ashtray for the last time, the experience lingering, as a great short story should, long after it has gone out. It goes well with a morning cup of coffee or a single malt in the evening.
Like all Hemingway cigars, the price may be prohibitive to some, but I try to keep one or two in my humidor for special occasions ─ birthdays, holidays, an acceptance letter, maybe even the occasional rejection letter that lends encouragement.
Highly recommended.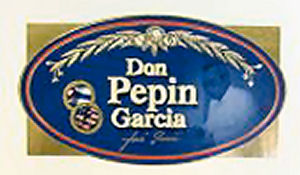 Don Pepin Garcia Series JJ
Cigar Review by J. Conrad Guest
Don Pepin Garcia achieved the rank of Tabequero Maestro while he was rolling and blending cigars in Cuba. Pepin came to Miami in 2002, founding his cigar factory, El Rey de los Habanos, where he has been crafting good smoking cigars ever since.
The "JJ" in the Don Pepin Garcia Series JJ is a combination of Jose (Pepin's first name) and Jaime, his son's name. The Series JJ is a Nicaraguan puro made with a mixture of Corojo and Criollo filler, a Criollo binder, and a Corojo wrapper.
Don Pepin has been on my wish list of cigars for some time, so I looked forward to sampling the JJ. Its fragrant wrapper was wood-scented, with hints of leather, and it took to flame eagerly. My first few draws resulted in a distinctly woody flavor, which soon tapered off only to return again about a third of the way through, but combined with pepper and several other complex spices. The cigar burned evenly throughout, never needing a touchup, and the ash was firm, never splinting. The cigar's finish was strong but smooth, never hot or bitter, with a hint of java.
Cigar reviews are, like movie, book or music reviews, highly subjective — I've been disappointed by some smokes that came with high praise, and delighted by others that were panned. That said, I'd say the JJ is a medium to full-bodied cigar that goes well with a morning cup of coffee or an evening glass of wine or English ale. Easy on the palate, it's not too mild, nor is it offensive or an acquired taste; therefore, it can be enjoyed equally by the novice or the seasoned smoker.