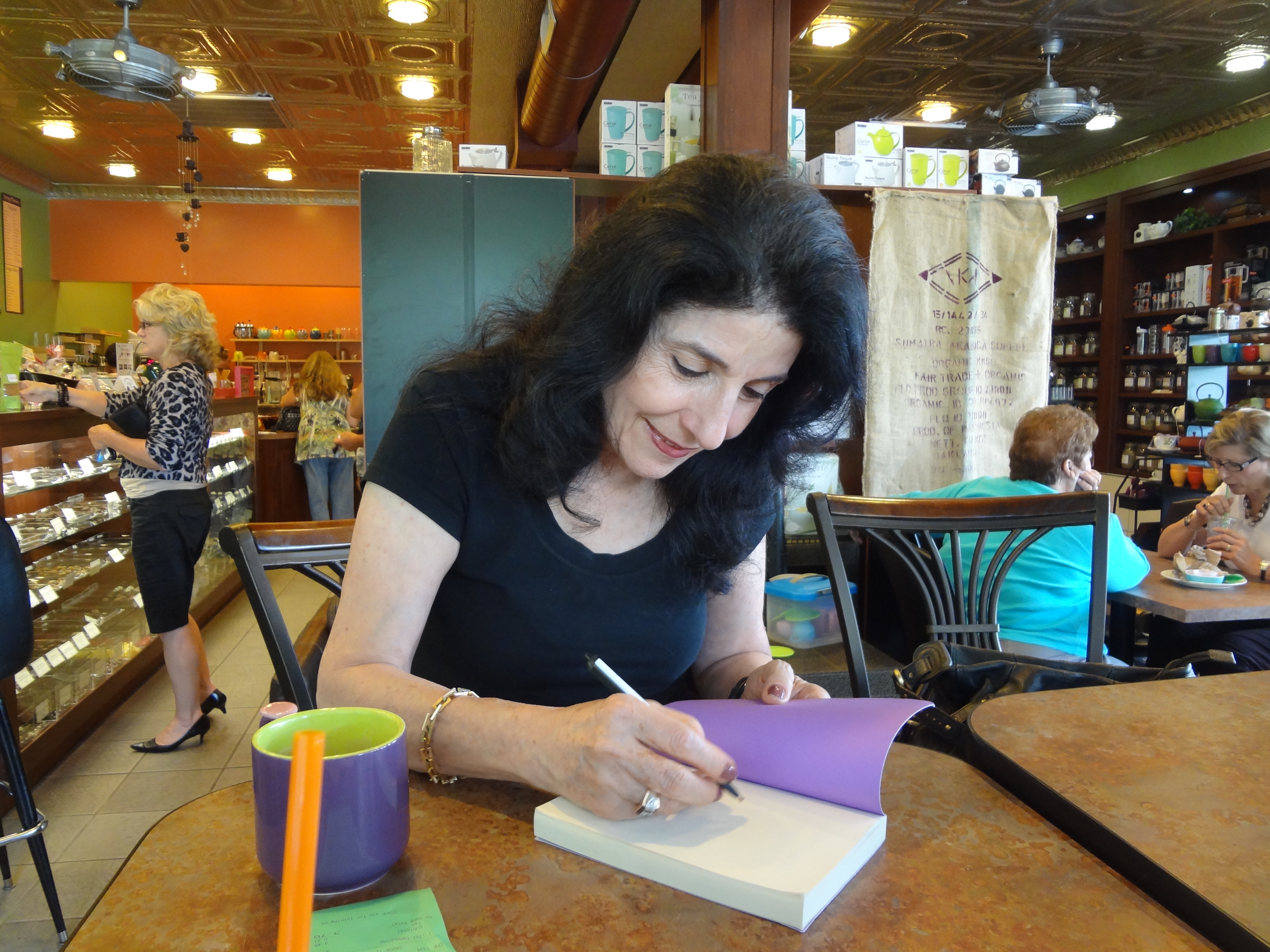 Hedy Habra signs my copy of Flying Carpets
By Zinta Aistars
Drinking blueberry green tea in a Kalamazoo tea shop, I sit down with Hedy Habra for a chat. I had recently read Hedy's story collection, Flying Carpets, published by March Street Press, and I was eager to know the author better.
Hedy and I have known each other for some years already, meeting first at the five-year anniversary (almost two years ago already!) celebration of The Smoking Poet at The Wine Loft in Kalamazoo, a gathering of 13 authors published in our pages coming together to read their work—to a standing-room-only audience. Hedy was among those readers. It was great to finally meet an author I'd published more than once, and to hear her voice give shape to the work I'd been reading online.
And so we met again and again, running into each other at various literary events and arts gatherings in and around Kalamazoo. Always we talked about meeting like this, one on one, and talking more than in passing. I sipped my tea and settled in with real pleasure to get to know this brilliant woman of many languages—she speaks not only English, her third language, but Arabic, French, Spanish, Italian, Latin, Greek … did I miss any? That alone had earned my admiration.
Hedy is a professor at Western Michigan University, where she teaches Spanish, having earned her PhD in Spanish literature at WMU. Hedy is Lebanese, born in Heliopolis, Egypt. She came to the United States with her family in 1981.
Finally, we had matched our schedules to sit down together for this longer talk. Not easy, because Hedy had been on the international road for book signings and author readings from her new book, Flying Carpets. And there are more books on the way. Tea in Heliopolis, a collection of poems, with a cover painted by Hedy, will be coming out soon from Press 53. The new book, not even yet in print, had already been selected for the Silver Concho Series.
I wanted to hear more about it.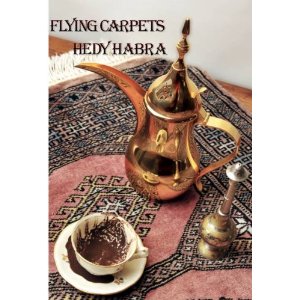 Our conversation began easily, as we found we grew up on common ground—that is, speaking more than one language, dealing with more than one culture (I speak Latvian, and English was my second language). We spoke of the challenges of switching from one world to another, one style of living to another, of loving more than one home.
"You know, Hedy," I said, "I warmed to Flying Carpets immediately, because with the first story, I felt like I had returned to an earlier time in my life. I grew up reading voraciously, and my first books were collections of Latvian fairy tales and folklore. This book, it has a similar world of fantasy in its stories. And the storytelling … "
I wasn't sure how to put it. My Latvian books tell stories in a different way than my American books. How to explain that difference? But Hedy knew. She got it, right away. That was our common ground.
Storytelling, she said, is a very strong tradition in the Middle East, and in my own background, in the Latvian culture, it was, too. Perhaps even a means of survival, a means of a culture surviving many wars and uprisings.
We spoke about the element of fantasy in her stories, about the richness of language, and that each one contains within it many, many layers of meaning.
"When I was 16, I loved poetry," Hedy said. "I wanted to be a reporter, and I was always imagining different endings to stories. I was fond of fairy tales, and I would play them out differently than what I read."
In fact, Hedy studied pharmacy while living in Beirut. She also loved philosophy. Her first poems were written in French.
"I was devastated whenever class was over," she laughed. "I loved learning!"
It was only after earning her MFA in fiction and poetry at WMU that Hedy started seriously writing in English.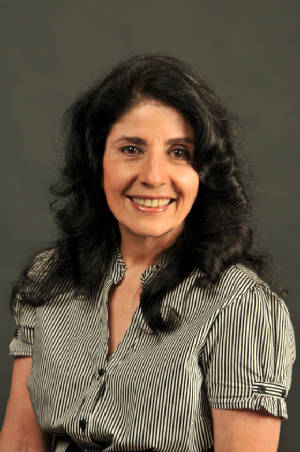 Hedy Habra
"There is so much I want to say," she said, and the fervor rose in a flush to her face. "So much I want to learn, to experiment with. Different cultures open up so many windows to us. Most American literature is very concrete, down to earth, literal. I enjoy allegories and the fantastical."
At a recent reading in Atlanta, Hedy said, her daughter listened to her mother's reading from Flying Carpets and later remarked, "I don't know you!" Which made Hedy laugh. She relished the surprise. Her daughter marveled at how Hedy could imagine so many scenarios she hadn't actually experienced herself, imagine so many colorful characters and bring them to such vivid life.
Speaking about the phenomena of writing a story, even when it is rooted in one's own life, Hedy notes a certain distance she keeps. Her father died when she was 9, and her mother "was very strict and cautious. A wise man turns his tongue seven times in his mouth before he speaks, she would teach us. Even when you are telling your own story, you aren't telling everything. Memory is always personal. Every time we reach into our memory, the story changes. That's what is so beautiful about writing. It is a tapestry. We are always adding, changing the colors."
I can see the magic flying carpet, its rich tapestry, as I listen to Hedy. There are images of flight in each story in the collection. Dreamlike qualities move through her storytelling, and the reader is mesmerized by another kind of life, in Egypt, in Lebanon, magic and myth interwoven with realism.
The stories in Flying Carpets are written over a period of 20 years, beginning with Hedy's MFA studies. Many have been published individually in literary magazines, including The Smoking Poet. Some of the stories have been rewritten again and again, countless times, and one felt right only when Hedy changed the setting, the place where the story took place—and suddenly all the pieces fit. She's that persistent.
"It's all been such a new experience," she said about having her stories published in a book, marveling. Indeed, this book opened the door to others; she has two more coming out in 2013, a scholarly book called Mundos alternos y artísticos en Vargas Llosa (Iberoamericana Vervuert), and the aforementioned Tea in Heliopolis.
"At first it all made me very nervous, but now," she nodded," it is a wonderful time of discovery."
Along with writing, ever the eager student, Hedy is polishing her formidable painting skills. She's learning oriental art styles, but her watercolors are accomplished. One of her paintings is featured as the cover of her upcoming poetry collection.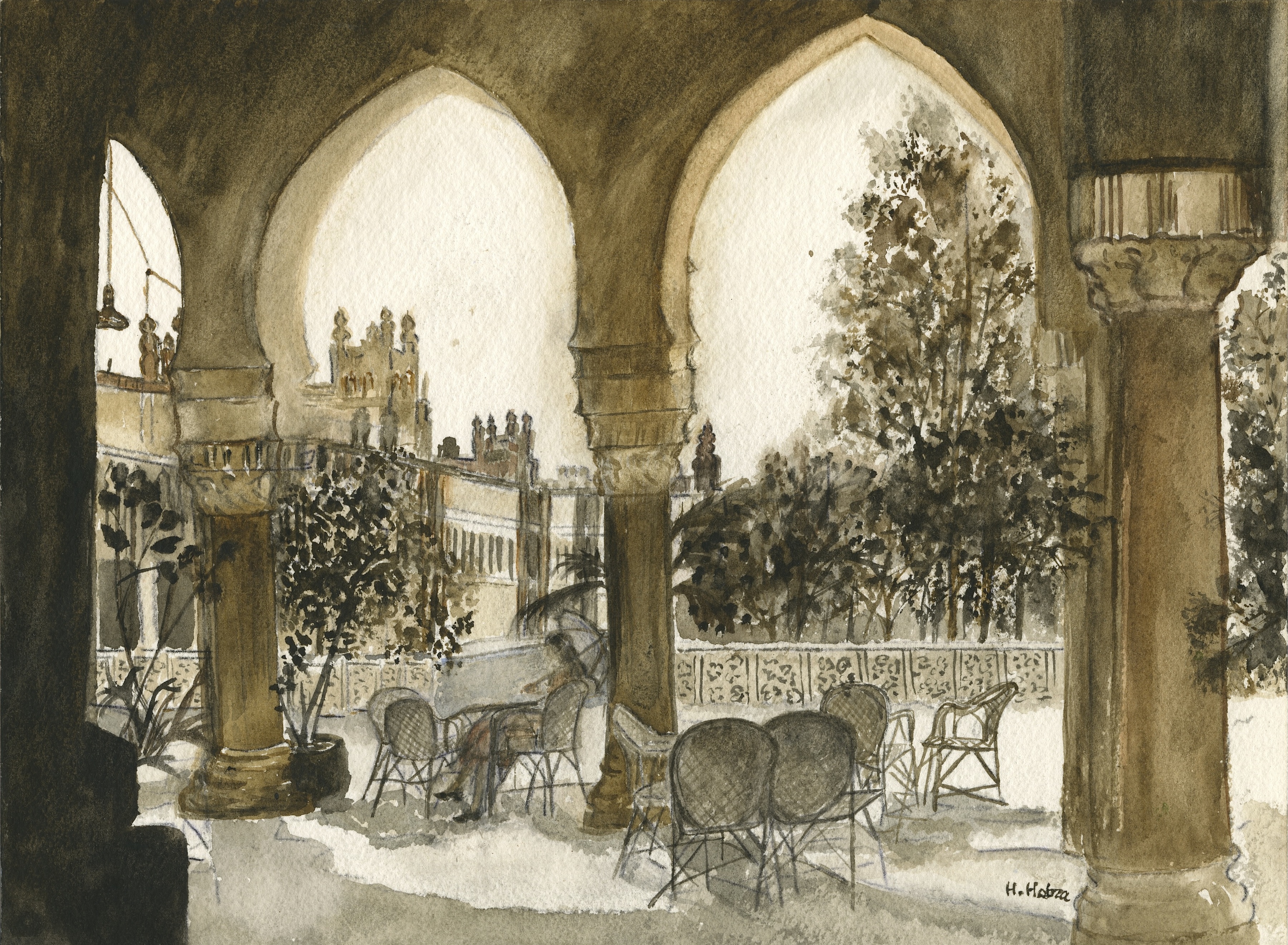 Hedy's painting that will appear as cover image for "Tea of Heliopolis"