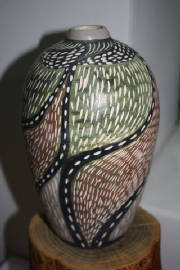 Pottery by Ed Gray
Richard Z. Santos
Stubborn Pride Submits to Light and Fire
My mother's bone marrow was stolen in the night.
Round-faced Tejanas crept into her room and bombarded her with light and fire
until her skin dried into a chili pod—
brittle, wrinkled,
yet still fragrant with spice.
Her brother's marrow takes over, and her blood, which was partly mine, disappears.
There's a chance her body will fight the intruding marrow.
A chance she'll say,
I'll keep what's mine, even if it's sick, even if it kills me.
And her body, deviant marrow and untrustworthy blood, will again be her own.
Richard Z. Santos currently lives in San Marcos, Texas. Richard used to live in Washington, DC, and Santa Fe, New Mexico, where he worked in politics. Now that he's come to his senses, he doesn't do much more than write and teach. Richard's fiction has been published in Nimrod, Kill Author, Bartleby Snopes, Snake Oil Cure and other fine places.
Gemma Manuel Ybarra
Lullaby
Let the colors
of the evening
surround each
ineffectual sigh.
The day is over
and only the stars
can speak of renewal.
Everything left undone
will have to wait
until the night passes.
Let the breeze soften
into an unalloyed blue.
In this lovely darkness
serenity is wide
like the angle of sleep.
Originally from the Philippines, Gemma Manuel Ybarra grew up largely in West Africa. The greatest boon of having to travel at an early age was the lack of time for television; there were far too many places to explore, too many books to read, many languages and cultures to learn. She got into the habit of writing as a means of collecting details and marking time.
Shannon Connor Winward
Rival
One night she took a marker to your door
and wrote, This is my son,
a child of the Lord.
It was uncomfortable, scrawled
letters saturated with drink
and low to the ground.
She must have fallen to her knees
to raise you up in defiance.
I wondered if it made you feel tall.
I think your sins
were her assurance of heaven;
not a liquid suicide at all
but a skyward dance,
a mother martyred
nightly for her child.
Once, while pouring her gin
down the sink
-- a bid for attention
a libation -- I figured out that the
trick to resurrection
is to survive.
But I never moved her enough
to write about it on my door
so I became a poet
I write it for myself, but, really
all I meant to say was
I am her child, too.
Shannon Connor Winward's writing has appeared or is forthcoming in many print and online venues including Pedestal Magazine, Flash Fiction Online, Strange Horizons, This Modern Writer [Pank Magazine], NewMyths.Com, Ideomancer, The Magazine of Speculative Poetry, Shot Glass Journal and the anthologies, Jack-o'-Spec: Tales of Halloween and Fantasy (Raven Electrik Ink) and Twisted Fairy Tales: Volume Two (Wicked East Press).
Lisa Zimmerman
Caught
One day, in a field of glinting blue days, I forgot that my mother was gone. She died months before that fall morning flared open with its circus of leaves. The children had left for school and the dog was lying on a scarf of September sun in the yard and there might have been sparrows and black-capped chickadees crowding the bird feeder. The kitchen window balanced the lake in its frame when I opened the cabinet and reached for a cup. As my hand circled the cool porcelain I suddenly remembered and I said it out loud, "My mother is dead." And that effortless, unwavering truth did not change the light or air or emptiness of anything.
Lisa Zimmerman received her MFA from Washington University in St. Louis. Her poetry and fiction have appeared or are forthcoming in Cave Wall, River Styx, Colorado Review, Poet Lore, The Cortland Review, and Paper Street, among other journals. Her first poetry collection, How the Garden Looks from Here, won the 2004 Violet Reed Haas Poetry Award. Her most recent collection is The Light at the Edge of Everything (Anhinga Press, 2008). Lisa lives in Fort Collins, Colorado, and is an assistant professor at the University of Northern Colorado.