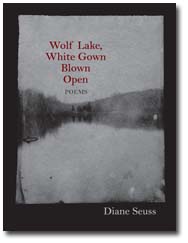 Wolf Lake, White Gown Blown Open: Poems
by Diane Seuss
Review by Jeanette Lee
Paperback: 66 pages

Publisher: University of Massachusetts

Press, 2010

ISBN-10: 1558498257

ISBN-13: 978-1558498259
"…we receive beauty as a nail receives the hammer blow…" ("Even in hell there are songbirds" Wolf Lake, White Gown Blown Open by Diane Seuss)

Diane Seuss's volume of poetry Wolf Lake, White Gown Blown Open comes at readers like waves rushing toward shore, an urgent beauty of linguistic rhythm and precise surreal imagery. Her poems plunge readers into wild roses among the lilacs/ eggs among the nests woven from chemotherapy hair ("Springs confessional poem" Seuss, 49) until we concede that our ugliness is stunning, our dying is vibrant.

The need to roll in our ashes and gloriously rise up an ash covered, motley phoenix is relevant to both men and women. Yet, Wolf Lake, White Gown Blown Open is a siren call to the wild woman, to the woman who intuits her sanity is sovereign and untied to social norms. This volume of poetry is an anthem to the innate and undiluted feminine psyche, which strengthens and endures. For example from "I'm glorious in my destruction like an atomic bomb:"

I'd just hennaed/ my hair I mean it was an oil refinery/ explosion and he said you're more/ ravaged than I expected and that was/ nearly thirty years ago so/ what the hell am I now… (Seuss, 43)

Seuss sets archetypal truths on fire so we can't miss them. She consumes her personal history and gives volatile birth to poems full of gritty, honest self observation that make readers consciously inhale and exhale with a frantic desire to begin to live more fully, to be aware of breath in our lungs, sweat under our arms, and dirt under our heels. You dig until you die. You carve a hole / for you sadness and dance inside it, like a worm / in a jumping bean. ("Baby goodbye," Seuss, 38)

Wolf Lake, White Gown Blown Open is organized into five sections: I the river purrs (and burns); II we were happy (we were unclean); III lost my baby (almost lost my mind); IV paper heron (painted blue); V quick needle (silver light). These section titles are lines from her poems restructured as statements with parenthetical modifiers. Likewise, Seuss's collection of poetry continually points out truths about love, loss, living and dying and then has something more to say about it.

The cover art for Wolf Lake, White Gown Blown Open is "Wolf Lake," a calotype produced by Seuss's son Dylan Seuss-Brakeman.

Wolf Lake, White Gown Blown Open is the 34th recipient of the Juniper Prize for poetry, an award presented annually by the University of Massachusetts Press for a volume of original poetry.

Diane Seuss is writer-in-residence at Kalamazoo College. Her first poetry collection, It Blows You Hollow, was published in 1998 by New Issues Press.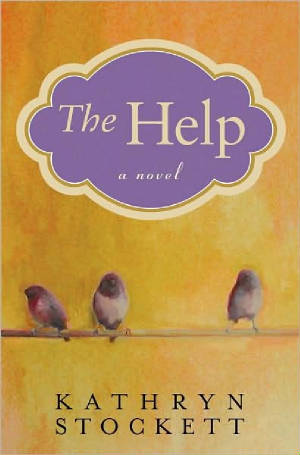 The Help by Kathryn Stockett
Review by Jeanette Lee
Kathryn Stockett's The Help was recommended to me with the phrases: "I finished the book and immediately turned back to the beginning and started reading it again," "You become invested in the characters and what happens to them," and "I haven't cried at the end of a book in years, goodbyes always make me cry." I immediately bumped The Help to the top of my reading list.
Stockett's The Help is set in Jackson, Mississippi during the sixties. The novel begins a few months before the March on Washington and concludes a few months after the assassination of John F. Kennedy. Interwoven with historical fact is the fictional narrative, which rotates between three character perspectives: Aibileen, Minny and Skeeter. The Help starts and ends with the observant voice of Aibileen, a black house keeper who's raised seventeen white children and is currently raising the eighteenth. Aibileen's best friend Minny, also a black housekeeper, has sharp tongue and strong opinions which instigate many of the novel's plot twists. And Skeeter, a young white woman and aspiring writer, who naively decides to compile a book about the experience of black maids in Jackson, Mississippi. Their stories intertwine to ultimately ascertaining the primary message of The Help, "For women to realize, we are just two people. Not that much separates us. Not nearly as much as I'd thought" (Stockett, p. 418)
The novel addresses racism and feminism within the theme of human agency. Who are the silent voices? What stories do we have the right to tell? Throughout The Help I wondered of Stockett, is this her story to tell? Does she have the authority to tell both black and white perspectives on racism in Jackson, Mississippi during the sixties? This issue is heightened for me by the fact that Stockett adopts dialect for Aibileen, Minny and other black characters, but not for any of the white characters who would surely have a southern Mississippi accents.
While this problem never dissolves it is tempered by Stockett's afterword entitled, "Too Little, Too Late" in which she explains the origins of her story. To quote author Aldous Huxley, "Every man's memory is his private literature." In this case The Help comes from Stockett's memory of growing up in Jackson, Mississippi with a black family maid, Demetrie, who told Stockett stories of picking cotton as a girl during the Great Depression. Stockett's lingering desire to ask Demetrie about what it felt like to be black in Mississippi prompted her to write The Help. Stockett concludes, "I have wished, for many years, that I'd been old enough and thoughtful enough to ask Demetrie that question. She died when I was sixteen. I've spent years imagining what her answer would be. And that is why I wrote this book"(Stockett, p. 451). Thus, The Help is not an over assertion of Stockett's agency, but a sincere attempt to actualize a past and present understanding that we are all human beings.
Toward this end of better understanding human relationships, and in the context of a racially divided nation, Stockett's character development is strong and truthful. Readers' emotions inevitably change with the character's emotions like a child being led by the hand of an adult. Furthermore, every moment in The Help adds to the novel's need to be told; to continue raising awareness of racism and socio-economic inequality which persists, and to make greater steps towards a world which actualizes our intrinsic value as human beings in an impartial and undivided way.
Kathryn Stockett was born and raised in Jackson, Mississippi. Stockett graduated from the University of Alabama with a degree in English and Creative Writing. The Help is Kathryn Stockett's first novel. The Help has been on the New York Times Best Sellers list since August, 2009.
For another perspective on The Help, see Zinta Reviews.