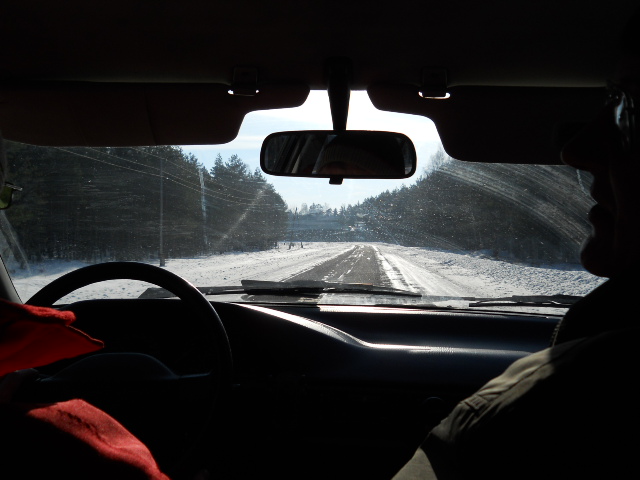 Last Chance to Play
by Andris Sīlis
Viss iesākās it kā nejauši. Reiz, apmēram pirms diviem gadiem, autobusā, braucot no divos upes krastos izvietotās pilsētas viena krasta uz otru, satiku Bruni – bundzinieku, ar kuru pirms gadiem 30 biju spēlējis kopā kādā grupā. Pēc parastās apsveicināšanās sekoja mūžīgais jautājums: Vai tu vēl kaut kur spēlē? Satiekoties ar bijušajiem mūziķiem, atbilde uz šo jautājumu gandrīz vienmēr ir bijusi negatīva. Tā arī šoreiz. Pēdējie 20-30 gadi bija ienesuši pamatīgas korekcijas mūsu dzīvēs, tik pamatīgas, ka spēlēšanai tur vienkārši vairs nebija vietas. Braucot pāri tiltam, domīgi raudzījāmies Ventas tumšajos ūdeņos, līdz Brunis piepeši ieprasījās:
– Vai Vairi atceries?
– Jā, protams. Pag, liekas tas bija 80. gads, kad pēdējo reizi spēlējām kopā kādās kāzās...
– Nu jā, Vairis tagad pa Holandi ņemās, bet bieži brauc uz šejieni. Gatavojas pirkt aparatūru un instrumentus un taisīt augšā blici (band). Kad nupat pēdējo reizi viņš te bija, runājāmies, ka mums vēl tikai pietrūkst basģitārists. Tu taču kādreiz spēlēji arī basu?
– Spēlēju gan.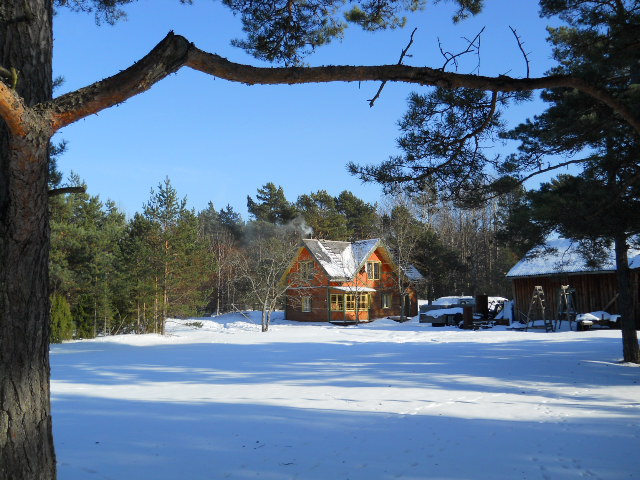 Pēdējos desmit gados pa vienam vien esmu savilcis savā alā vairākas ģitāras, basģitāru, digitālās klavieres – veselu arsenālu, kā gaidot X stundu, kura tā arī nekad neiestājas Tālākā sarunā noskaidrojās, ka Brunis tiks pie bungu komplekta, tātad, pie īstām bungām. Mūsu laikos šim reģionam neticama greznība! Kad sākās visas tās pārmaiņas gan politiskās, gan tehnoloģiskās, pirmie bez darba palika tieši bundzinieki, jo viņus viens un divi izkonkurēja elektroniskās bungas. Ieguvums gan bija tikai naudas izteiksmē, jo spēles beigās nebija jādalās ar bundzinieku, citādi gan viens vienīgs zaudējums – tika pazaudēts sitiens (beat), kuru nekāda elektronika nevar aizstāt. Neko daudz tālāk mūsu saruna uz priekšu tā arī nepavirzījās, vien izkāpuši pieturā no autobusa, apmainījāmies telefonu numuriem un devāmies tālāk katrs savās gaitās. Tad sākās kārtējā krīze un finansiālu apsvērumu dēļ atkal viss apstājās līdz beidzot pirms dažām nedēļām iezvanījās telefons un klausulē atskanēja sen aizmirsta balss. Tas bija Vairis.
- Nu, kas ir vecais? Darām kaut ko? Ja tā, tad es pasūtu aparatūru un bungas. Pēc pāris nedēļām mēs varētu sākt. Varbūt, ka šī mums ir pēdējā iespēja, tagad vai nekad!
Tagad vai nekad ... pēdējā iespēja ... izklausījās briesmīgi, bet mums visiem jau pāri piecdesmit, jaunāki nekļūstam, pirksti kļūst aizvien stīvāki un neveiklāki. Varbūt vēl vienīgi garā esam jauni, ja tā drīkst izteikties, bet vizuāli ...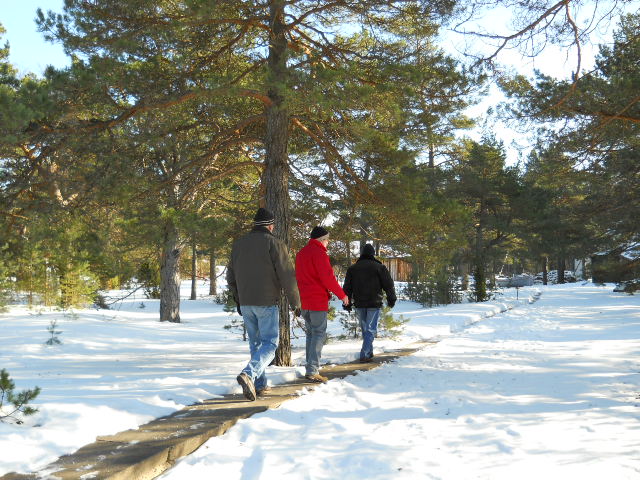 – Tagad vai nekad!
Pēc divām nedēļām redzu pa logu pieripojam pie mājas nelielu sarkanu mašīnīti un pirms tā paguvusi ietaurēties, esmu jau uz ielas. Uz priekšējā sēdekļa blakus šoferim vokālistam Gatim sēž Varis, taustiņinstrumenatālists (keyboard player). Pagriezies, sniedz roku, sacīdams:
– Paklau, Andžu, es te tā gudroju un man sanāk, ka neesam tikušies kādus 27 gadus!
Jā, pilnīgi iespējams. Tas varēja būt toreiz, kad spēlējām kopā vienā restorānā un Vara kroņa numurs bija tas, ka dziedot kādu dziesmu, piedziedājumā viņš uzņēma ļoti augstu noti falsetā un tas izskanēja pietiekami iespaidīgi, vismaz tik iespaidīgi, ka tajā momentā zālē visi pārstāja ēst, pieklusa sarunas un trauku šķindoņa un tā tas nemainīgi atkārtojās katru vakaru ...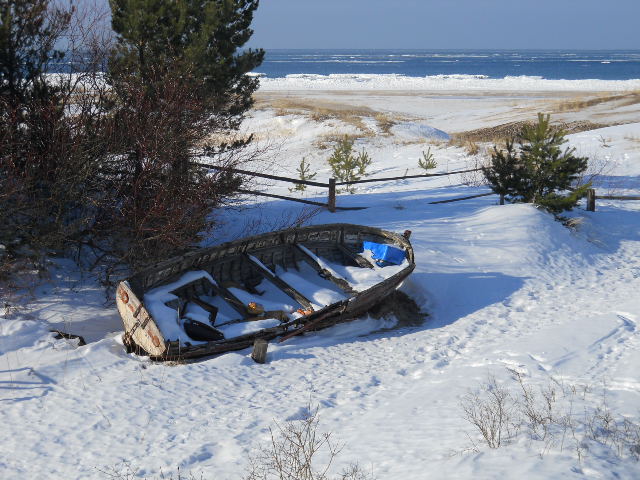 Ceļš bija apledojis un slidens, sarunas neko īpaši nevedas. Jābrauc nav tālu, vien pārdesmit kilometru no Ventspils uz Kolkas pusi. Vairis pirms gadiem desmit tur iegādājis zemes gabalu pie jūras, vienā no neskaitāmām bijušām padomju armijas dislokācijas vietām. Pamestās kazarmās iekārtojis dzīvojamo māju, viņš sagaida mūs pagalmā, tērpies rupji adītā džemperī un dungriņos (jeans), kūpina pīpi. Kā tāds vecs jūras vilks, pie sevis nodomāju. Un tiešām, jūras šalkoņa dzirdama turpat netālu.
Turpmākās sarunas risinās virtuvē, gatavojot kafiju. Uzvilnī kopīgas atmiņas, kopīgi piedzīvojumi dažādās vietās un laikos, uz brīdi pat rodas mānīgā sajūta, it kā tas viss būtu noticis vēl tikai vakar un mums vēl visa dzīve priekšā un jūra līdz ceļiem. Tikai maz pamazām atklājas, ka daudzi no mūsējiem jau vairs nav starp dzīvajiem. Acu priekšā aizslīd kadri kā filmā – visi tie bezbēdīgie zēni, kas tagad nu jau spēlē pavisam citās grupās, citos laukos ... Toties dažs labs no mums, dzīvajiem, izrādās jau esot vectētiņš un tas nu nekādi nevar neizsaukt smaidu, jo šie vectētiņi mūsu atmiņās vēl skraida īsās bikšelēs, noskrambātiem ceļgaliem un nodauzītiem degungaliem.
Tomēr pamazām atmiņu pavedieni sāk trūkt, vien malkojam kafiju, kāds uztin smaržīgu cigareti, Vairis piebāž kārtējo pīpi un klusējam. Par pašu galveno – kādēļ šeit esam sanākuši, vairāmies runāt. Viena lieta ir tā nolīst katram savā alā un kaut ko pie sevis klusībā strinkšķināt, bet pavisam cita lieta ir iziet uz dēļiem un te nu mēs visi esam drusku noraustījušies. Mūzikā viss ir daudz nežēlīgāk, viss notiek te un tagad. Tāpat kā sportā. Tā nav darba intervija, kur vari sevi parādīt labākā vai sliktākā gaismā, balstīties uz kādiem bijušiem nopelniem un pārdošanas rādītājiem, iepriekšējo pieredzi vai zīmēt potenciāliem darba devējiem rožainas nākotnes perspektīvas un vīzijas, sak, ņemiet mani, un es jums rausīšu naudas kalnus, dodiet tikai man labu algu, apdrošināšanu un apmaksātas brīvdienas!
Kafija ir izdzerta un cigaretes nodzēstas, kā norunājuši, klusējot ķeramies pie instrumentiem. Brunis piesēžas pie bungām, nodun pedālis, daži uzsitieni pa šķīvjiem, Varis novidžina kādas arpedžijas uz klaviatūras, Gatis regulē mikrofonus, bet mēs ar Vairi skaņojam ģitāras. Visas šīs sen aizmirstās bet kādreiz tik ļoti ierastās sagatavošanās skaņas mobilizē un reizē arī nomierina. Drīz jau esam tik tālu, ka varētu sākt spēlēt. Tikai ko? Ar saviem veiklajiem pirkstiem, izmezdams kārtējo virāžu uz taustiņiem, Varis šķelmīgi smaidot iesaka C Jam Blues.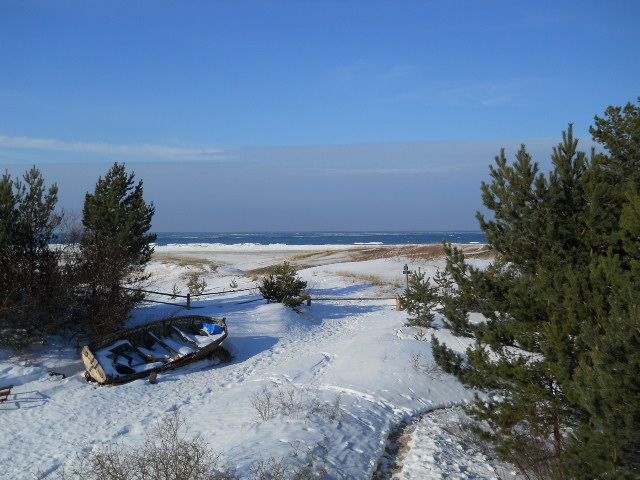 – Dullais, – momentā atskan protesti, – tu ko, gribi, lai mēs tūlīt esam uz deguna?, tad jau labāk Blue Monk, taču arī šis priekšlikums negūst vispārēju atsaucību. Tā nu visa šī diskusija būtu ievilkusies vēl nezin cik ilgi, ja tai punktu nepieliktu Vairis, ieteikdams vienkāršu 12 taktu blūzu mērenā tempā. Brunis noskaita priekšā tempu – viens, divi, viens, divi, trī, četri, aiziet! Tagad vai nekad!
Last Chance to Play
by Andris Sīlis, translated by Zinta Aistars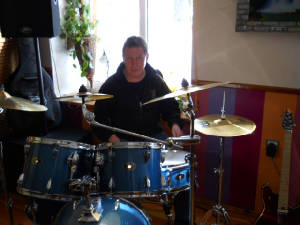 It all began by chance. Once, about two years ago, on a bus, traveling from one shore of the river to the other, the city split between the two, I encountered Brunis. He was a drummer with whom I'd played in a band some 30 years ago. After the usual greetings one gives came the eternal question: So, playing anywhere?
Whenever I meet with former musicians, the answer to this question has almost always been in the negative. As it was this time. The last 20 to 30 years had brought immeasurable transformations in our lives—so all encompassing that making music had found no place. Crossing the river, we gazed into the dark swirl of the Venta currents, until Brunis asked:
– Remember Vairis?
– Yes, of course. Wait, I think it was in 1980 that we last played together, at some wedding ...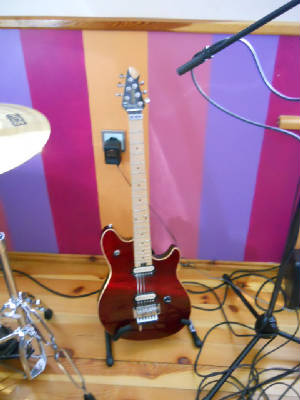 – Yes, well, Vairis is in Holland now, but he returns often. He's getting ready to buy recording equipment, instruments, get a band together. We were just talking last time he was in town that we need a bass guitarist. You play bass, don't you?
– I do.
Over the past ten years I had dragged back to my cave all sorts of guitars, a bass guitar, digital keyboards—an entire arsenal, as if waiting for the X hour, which never seemed to arrive. As we talked, it turned out that Brunis was putting together a drum set, rare riches in this area. When all those changes began here, political and technological, it was the drummers that disappeared first, unable to compete with electronic drums. There might have been a financial profit with bands no longer having to split pay with the drummer, but there was a loss—the drummer's beat—that no electronic substitute could replace.
Our conversation didn't go much further than that; we simply exchanged telephone numbers as we got off the bus and left each to return to our own lives. Then another financial crisis swept across the country and all such thoughts of music came to a halt for lack of money—until just a few weeks ago when my telephone rang. A forgotten voice sounded on the other end of the line. It was Vairis.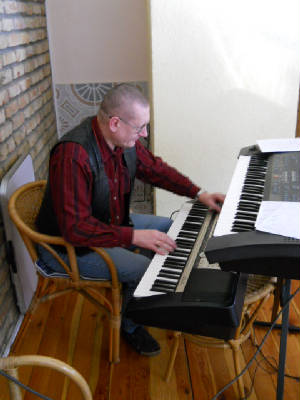 —What do you say, old man? Shall we get going on something? Because then I have to buy up the equipment, the drums. We could get started in a couple of weeks. Who knows, this could be our last chance. Now or never!
Now or never ... last chance ... it sounded horrid, but we were all past fifty by now, not getting any younger, fingers cramping up stiff and inflexible. Maybe young in spirit, one could say, but in appearance ...
Now or never!
After two weeks I watch through my window as a compact red car rolls up, and before it has the chance to sound its horn, I'm already on the street. In the front seat, in the passenger seat next to the driver, vocalist Gatis, is Varis, keyboard player. He turns and extends a hand over the seat.
—Listen, Andy, I've been thinking ... it's been about 27 years since we've met!
—Yes, quite possible. It could have been that time we played together at a restaurant and Varis crowning moment was when he sang such a high-pitched falsetto note that it stunned the entire room, for one moment everyone forgetting to eat, all conversations gone silent, all clatter of dishes suddenly still, and that moment would repeat itself each and every night ...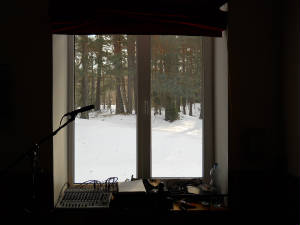 The road was iced over and slippery; conversation lagged. We didn't have far to go, twenty kilometers north of Ventspils toward Cape Kolka. Ten years ago, Vairis purchased land there by the sea, one of the countless Soviet army abandoned barracks. He renovated barracks into living space. He greets us in his front yard, dressed in a textured knit sweater and jeans, smoking a pipe. Like an old sea wolf, I think.
And truly, we can hear the hiss of the sea just beyond. Our conversation unfolds in the kitchen, preparing coffee. Shared memories arise, shared experiences in various places and times, and for one moment we are fooled into thinking it all happened just yesterday and we have our entire lives still ahead of us and the sea reaches to our knees. Only little by little do we realize that quite a few of our old crowd are no longer among the living. Before our eyes slide past scenes as if in a film—all those careless boys, now playing in other bands, in other times ... while quite a few of us, those of us still living, turn out to be grandfathers now. The thought brings smiles to our faces, because in our mind's eye these grandfathers are still scrambling about in shorts with scraped knees and busted noses.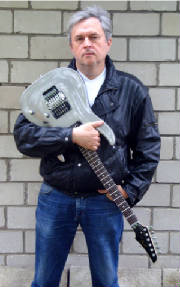 Eventually the threads of memory break, we sip coffee, someone rolls a cigarette, Vairis tamps his pipe and we are all silent. Why we are here—no one dare mention. It's one thing to crawl into one's own cave and strum something alone, but something else entirely to get up on stage, and here we all show our nerves.
Music is merciless; it's all here and now. Like sports. It's not a job interview, where one shows oneself in the best light, relying on past accomplishments and sales evidence, previous experience or paint in rosy light future visions—say, take me, and I will build you mountains of money, just give me that high salary and benefits!
The coffee is drunk and cigarettes are out. As if on cue, we silently reach for our instruments. Brunis sits down at the drums, the pedal thumps, a few hits to the cymbals, Varis runs through a few arpeggios on the keyboards, Gatis adjusts the microphones, bet Vairis and I tune our guitars. All of these once so familiar preparations both soothe and focus us.
We are ready to play. But what? With his quick fingers over the keys, Varis grins and suggests C Jam Blues.
—Idiot—protests immediately resound—you want us to fall on our faces right from the start? Then we're better off playing Blue Monk ... but even that recommendation gets no support.
This discussion might have gone on forever if Vairis hadn't brought an end to it, suggesting that we begin with a simple 12-bar blues in an easy tempo. Brunis counts it off—one, two, one, two, three, four, and we are off! Now or never ...