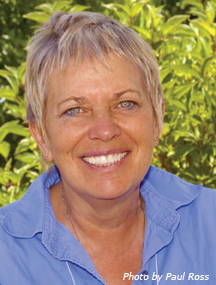 Judith Fein is an award-winning international travel journalist who lives to leave. She resided for more than ten years in Europe and North Africa and has a passion for adventures that are exotic, authentic, quirky, historic and immersed in local culture.
She has written travel articles for more than 90 magazines, newspapers and internet sites, including The L.A. Times, National Geographic Traveler, The Huffington Post, The Boston Globe, Sierra, the Utne Reader, Hemispheres (United Airlines), Travel Age West Magazine (for travel agents), Robb Report, Art and Antiques, Intermezzo, Continental, The Denver Post, New Mexico Magazine, The Dallas Morning News, Executive Traveler, Dreamscapes, TravelandLeisure.com, Just For Canadian Doctors, Hadassah Magazine, Wine Enthusiast, Organic Spa, Native Peoples, Islands, MSN/UK, AAA Traveler, The Christian Science Monitor, ConsumerTraveler.com.
She has appeared on the Today show and countless local and region TV and radio shows. Judith was a regular reporter for "The Savvy Traveler" on national public radio for 6 years, is travel editor of Spirituality and Health magazine and the San Diego Jewish Journal and Contributing Writer for Organic Spa magazine.
Judith Fein is the editor and co-founder of the popular website www.YourLifeisaTrip.com which features more than 80 writers. She blogs for The Huffington Post and Psychology Today. She has been an acclaimed speaker for many venues including the Educational Travel Conference, Association for Women in Communication, Northern New Mexico Press Women's Association, Jewish Community Center of Greater Albuquerque, the Hospice Organization, the Archives of the State of New Mexico.
She is the Vice President of the Travel Journalists Guild. With her photojournalist husband Paul Ross, she produces travel videos, slide shows and does travel performances. The duo teach travel writing and photography around the globe, and have led enthusiastic participants on cultural immersion trips to destinations like Guatemala, the Yucatan and Turkey.
Judith's website is is: http://www.GlobalAdventure.us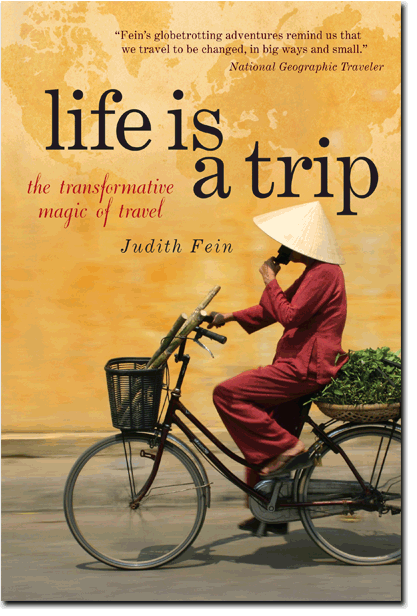 The Smoking Poet: Welcome, Judith! Your online travels have brought you to our pages, and we are very pleased to have you with us between journeys. You new book, Life is a Trip, with photos by your photojournalist husband, Paul Ross, is a collection of 14 travel stories (see review this issue). Please give our readers a bit of background on this book and what makes it different than most travel writing.
Judith Fein: When I sat down to write Life is a Trip, I thought about all the places I have been and which ones made the greatest impact on my soul, my heart, my life, my being. I decided to take the reader along with me, so the reader could have the experiences I had, the teachings I learned, the transformations I went through. I also wanted to write about the traveler's mindset—how you can be a traveler even if you never leave your home town. It is about a willingness, an openness—and when that exists, you can have an adventure every time you walk out your front (or back) door. It's that kind of travel book.
TSP: You like to say in your work that you "like to leave," but surely your traveling is not about running away, but more a kind of running toward something magical? A discovery that draws you? What is your motivation, or goal, in traveling?
Judith: It's true confession time. When I come home, I get caught up in the mundane details and demands of my life. I sometimes work at my computer 15 hours a day. Suddenly the past and future rear their heads: what didn't I take care of? what do I have to remember to do? Only when I go outside and have adventures in my home town do I feel deeply alive.
On the road, I ALWAYS feel deeply alive. There is no past or future. I am responding to what is happening around me all the time. Maybe there's a new language, culture, food, drink, festival, ceremony, art. It's the Zen state for me. It's the NOW. So my motivation is to go, see, learn, be absorbed, and then, of course, to come home and write about it, give talks about it, take others with me, so to speak.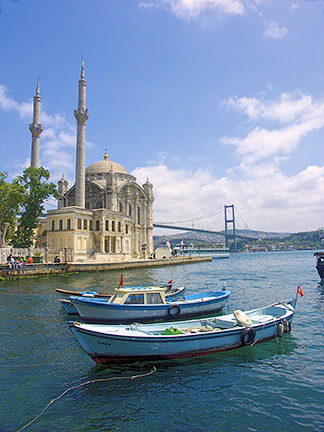 Bosphorous, Turkey (Paul Ross)
TSP: What was your criteria in choosing these particular 14 stories?
Judith: These were 14 experiences I had with other cultures where I learned something essential about life and living.


TSP: What is your most memorable travel moment, that journey that most changed you?
Judith: I am only being half-facetious when I say it was my last trip. When we travel, my husband Paul (Ross) and I are always looking at each other and saying, "Is this really happening?" I can't choose a most memorable moment or journey. For Life is a Trip, I chose 14. And it was hard. There could have been 25 ... or 16 ...
Sometimes, when I talk to very elderly people, what they remember most about their lives is their travels. I never want to be didactic, but I try to show, in my writing, how to do immersive, authentic, experiential travel ... so readers can do it too.


TSP: Your travel stories nearly always describe some trial of endurance, some obstacle that must be overcome, some moment of discomfort or even fear. As an avid traveler myself, I've often said that it is the misadventure that makes the best story. When we travel, even when we travel in luxury, we still have to give up the known routines and comforts of home. We must embrace differences or suffer the consequences. Why is this important, do you think? What part does facing discomfort and the unknown play in our journeys?
Anna la curandera, Guanajuato, Mexico (Paul Ross)
Judith: You are very smart to ask that question and to see that in the book. I believe each journey is a sort of initiation experience. You have to pass through certain tests or experiences to get the rewards of the initiate. I use the word "initiate" because, when you have a deep travel experience, it's like you become part of the mystery of life. If you drop out too early, you do not get the wisdom, the connection, the knowledge, the awe, the pleasure. You have to step out of your comfort zone, your box, to become an initiate. You have to exhibit willingness. The tests can be minor, very minor, or major. But instead of freaking when they happen, I try to remember that I am an initiate. And, also, as you said, the misadventure makes the best story.


TSP: The linguistics of travel … can we really understand a place, a people, a culture, without knowing the language? What languages do you speak? What challenges have you faced when not knowing the language of the place where you are?
Judith: Language. Ah, that is a whole other subject. I speak English and French fluently, and can get by in Spanish. I speak a smattering of German and Hebrew. So, when traveling, I always try one or more of these. I find that when the language is really, deeply foreign to me, there is always a kid, someone who speaks some English. Or there are guides and translators. But some of my most moving experiences have happened when I didn't speak the language of the people at all. Friends of mine have reported they had the same experience. The goal becomes to communicate. The language, the grammar ... on a deep level, they don't matter. You can mime, draw pictures, point. You can have a two-hour exchange with someone when you don't share two words in common.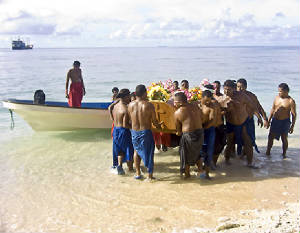 unloading a coffin for a Pacific island funeral, Mogmog, Micronesia (Paul Ross)
TSP: What kind of places call to you? How do you decide on a journey? Or is it more about visiting people rather than place?
Judith: When I hear the name of a country I know nothing about, I want to go there. Sometimes folk art calls to me. Or history or archeology or a random photo I have seen. Or the faces of the people. I rarely read up on a destination before I go. I want to be like Marco Polo, like Ibn Batuta, like the first explorers. I want to arrive somewhere and discover it with fresh eyes. There are only two places I have ever been that didn't speak to me. I never say which ones they are. People are very insulted if you don't like their towns or countries, so I keep my counsel. I want to go to a place that is mysterious to me, so I can have that discovery experience. Of course, when it's bitterly cold, warm places can call to you. When the world seems turbulent, you want to go somewhere calm and soulful.


TSP: Have global perceptions of Americans changed over time and place? Are you always greeted warmly or do you sometimes have to prove yourself?
Judith:
Yes, in my opinion, we had a lot of good will after 9/11 when people were very sympathetic to America. After the invasions of Iraq and Afghanistan, we were no longer the good guys. But I find that in most places, the locals do not confuse the government of a country with the citizens of the country. In many cases, they don't like their own governments, so they can't necessarily assume we support the policies of ours. They ask questions. Sometimes pointed questions. They listen to your replies and decide if they have something in common with you. People in countries that are supposedly our enemies—whatever that means—are often the warmest. They come running out of their houses to press gifts into our hands when they hear we are American.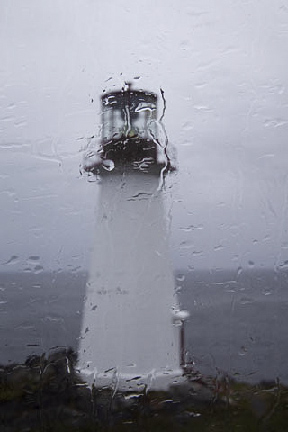 Lighthouse, Newfoundland, Canada (Paul Ross)
TSP: You often collaborate on your travel writing with your husband, Paul Ross, who records your travels with his photography, as he did in Life is a Trip. How does travel as a couple differ from travels alone? Do you sometimes have a preference? Do you experience the same place differently one way or the other?
Judith: My husband Paul often says we take different trips together. I see one thing, he sees another. I connect on one level, he on another. I LOVE traveling with him. I travel alone sometimes, but I love to have Paul there to bounce feelings off, I love his photos, I love sharing life experiences with him. We also laugh a lot. Laughing is good.
I have friends who prefer to travel alone, even if they have partners. Others who like to travel with girlfriends. I think what matters is that if you travel with someone else, it must be a person who is easy on your nerves. Who isn't too needy. Who has the same open-heartedness as you. Who wants to go off the beaten path, even in a huge city. Who wants to connect, meet locals, try different foods, go to ceremonies, be moved. The flexibility of your traveling partner is key. I am lucky. Paul is very flexible. I sometimes say that I married him because he always says yes—to life.


TSP: Have you ever found a place where that drive to leave… leaves?
Judith: No. I am not sure I have found a "home." Maybe it's that I have a wandering spirit. Or maybe it's that I just haven't found "home."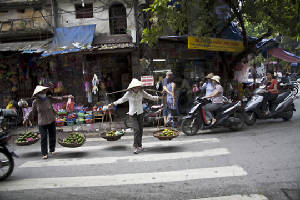 Saigon, Vietnam (Paul Ross)
TSP: What does home—that place with the permanent address—feel like?
Judith: I know the bed. I floss at about the same time at night—give or take a few hours. I have folk art from around the world on every inch of wall space. Five days a week, I walk in the hills and arroyos with a different friend each day, so I make sure to keep up with my social life. We eat in ethnic restaurants. I try to organize events or parties some times. I work a lot. A lot lot. A lot lot lot. I read. I explore the town I live in. I go to art openings, wander into ethnic stores. I am not sure I am answering your question. Maybe I am a home dunce. I just don't know.
TSP: Tell us something, too, about your journey of becoming a travel writer.
Judith: I was a Hollywood screenwriter. I felt as though the soul had been sucked out of me by an industrial-size vacuum. I just stopped one day. I had no idea what I would do. My sister called and said there was a new show on National Public Radio about travel and suggested I send in a tape. I couldn't imagine why they would want me. I recorded a four-minute piece about going to a silent retreat and getting into a food fight with a nun and almost getting arrested. I sent it in with no expectations. A few days later they called and said they wanted me to be a regular. I did quirky stories for them for 6 years.
With that credit, I wrote to a newspaper and asked if they'd like to see a travel article. They said yes, and published it. I queried other newspapers, and then magazines. Slowly, I started to build up a portfolio. I worked very hard. I was either on the road or on my computer. I started a website about travel with a partner. I sold more articles. Then, when I felt I knew what I was doing, I started teaching travel writing—in the field.
Paul and I took people deep into the Yucatan, near Belize, to Guatemala. We trained about 55 travel journalists. Now we take people on trips sometimes

—

they sign up through our website. We only take the kind of people we want to travel with. Paul helps them with photography. I ask them to write on the road. And I just keep writing.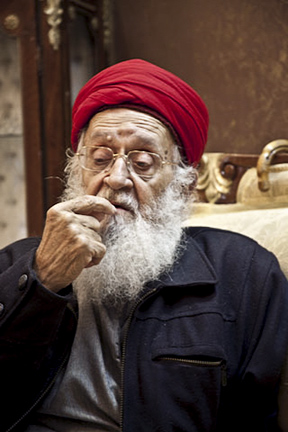 The High Priest of the Samaritans, Israel (Paul Ross)
TSP: You are also a playwright … and have a fine voice, too. Tell us something about these other aspects of your life.
Judith: I ran a theatre company in Switzlerland for about eight years. The first year it was in English, but then many of the actors lost their work permits, so I did it in French. It was an experimental theatre troupe, and I wrote the plays and directed. We were like family. I also wrote plays in English, and was lucky to win some important contests.
I was a Hollywood screenwriter for about 12 years. I wrote for the major studios. I wrote the liberetto for one opera, Hotel Eden, with Henry Mollicone, a well-known opera composer. It was developed with a grant from Opera America over about four years. Loved working with opera singers. The opera is three acts—each one based on a couple in the Bible. It's funny and irreverent and, I hope, about real issues and ideas.
What else? I've acted, directed, translated, done interviews. The other part of my life I love is giving talks—sometimes to very large audiences. Sometimes to smaller groups. The talks are about creativity, travel, making a meaningful life, all sorts of things.


TSP: Your Life is a Trip is also a travel site, a business effort for you and others. Tell our readers more about this, and what is a group travel blog …
Judith: My partner Ellen Barone and I decided to create a site (www.YourLifeisaTrip.com) where we could publish our own work without having to go through an editor. We could tell the kinds of stories that appealed to us. We wanted to make the same thing available to other writers. We got queries from many writers—beginners, award-winning writers. We posted guidelines on the site, so they'd know we were looking for first person stories under 1,000 words. Not stories about "I saw this, I did that," but stories about travel experiences that changed the writer in some way—or amused, taught, inspired him or her.
A group travel blog means that there are many contributors. We actually won two Society of American Travel Journalists coveted gold awards for the site. That felt really good. With the economy sliding down, it was hard to support the site. So now we are looking for a partner (or partners). Some business or company that wants to reach an audience of people interested in travel. We have the writers, the material, the creative juices. So, by the time this publishes, you'll have to check the site and see where we are at.
TSP: And then, there is Global Adventure …
Judith: Global Adventure is the website Paul and I maintain. People sign up for future trips. They read articles. Look at our published credits. See Paul's photos. Look at video clips or buy our videos. You asked what "home" is. Would "home page" qualify, LOL?
TSP: Where to next, Judith?
Judith: We leave now for Mexico. We are possibly going to Vanuatu, Fiji, Georgia, Greenland ... a lot of places. We're working on that now. We've been home for six weeks, catching up, writing articles, logging photos. It's time to hit the road.


TSP: Thank you so much for taking a short detour on your journey to talk to us. We wish you safe travels, and may you bring back many stories … all with happy endings.
Judith: You are a great interviewer. Thank you. I thought I'd just give you quick answers, but you made that impossible. Thank you!


---



.
ŠAll materials, print, artwork and photography on this site are copyrighted and not to be reprinted without written permission by The Smoking Poet.