NonFiction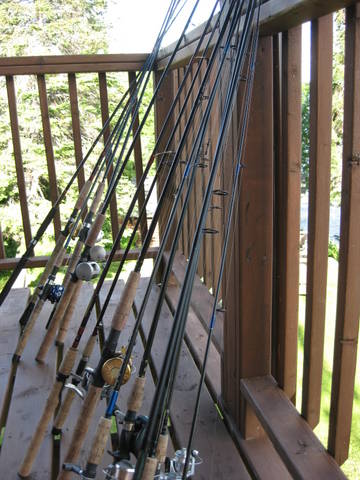 A Fish Story in Canada
essay and photos by Daina Bowman
When I think of Andy Myer's Lodge in Vermillion Bay, Canada, I think of a place where everyone knows your name, a place that doesn't change in an ever changing world, a place that is as welcoming as home and that you don't ever want to leave.
I hadn't fished before I married Steve. Both of us love the peace and quiet, the beauty of the northern woods and lakes and the call of the loon. Our three kids grew up going up north and fishing from the time they could hold a pole and watch a bobber. Fishing together became a family tradition.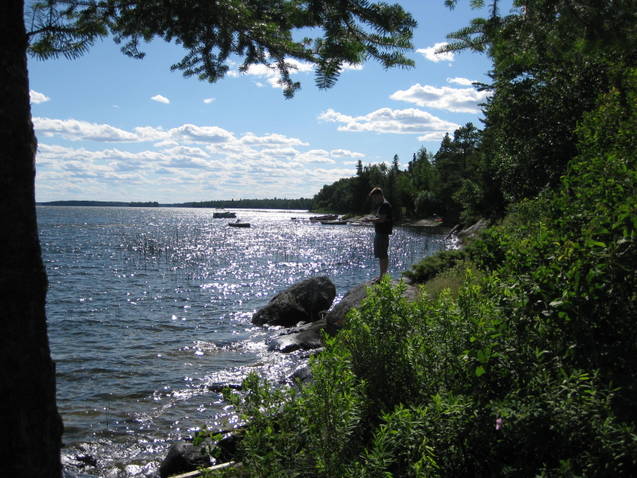 About ten years ago, our son Alex became obsessed with going for the big fish, that elusive Musky. He wrote a report for school about it and interviewed the owner of Andy Myer's Lodge at a fishing show. The owner, Steve Herbeck (known as Herby) got Alex excited, especially once he talked about a father/son excursion. Herby's son was near Alex's age. And so the four guys, my husband Steve and son Alex, my brother-in-law Doug and his son Dougie Jr., headed north to Canada. My two daughters and I stayed behind in the States.
The rest of that year, all we heard were the amazing stories and photos about their incredible fishing trip. They couldn't stop talking about it. I had to admit, the fish they brought home were delicious. My daughters and I got tired of hearing the stories over and over again, about how great the fishing was, how you could catch fish all day and how big they were and how beautiful it was out there, and how delicious and big the meals at the lodge were and how much fun they had. We decided we wanted to experience this place for ourselves.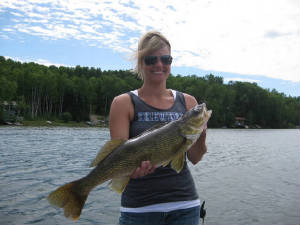 The following year, we went north as a family, two men folk and three women folk, and we have been going back ever since. Then, we had to skip four years as we started our own business and our kids went off to college, so we were especially excited this year to repeat our family fishing adventure. Would Andy Myer's Lodge be as wonderful as we remembered it?
Our trip started out early in the morning from our home in Chicago with a stop in Madison, Wisconsin, to pick up middle daughter Erika. We made our usual stop at a Wisconsin cheese shop to buy cheese, beef and venison sticks and, now that the "kids" were grown up, wine. We were traveling in two cars in order to carry all of the fishing gear and luggage for five people. With five drivers, we would switch cars and passengers for variety and fun throughout the 12-hour drive.
They say the weather on Eagle Lake is the same every day—sunny with intermittent showers. Cool at night and warm on the lake during the day. To be ready for any kind of weather, we needed rain gear, sweatshirts, tank tops, shorts, jeans, sweatpants.
We were all excited, laughing and joking, as we drove behind an SUV pulling a house trailer. Alex was driving ahead in the family van at this point with his dad and Erika, while I was driving the Honda behind with my eldest daughter, Melissa.
Suddenly, we were showered with bits and pieces of wood and insulation flying across the road and skidding off our windshields. Alex had slowed down, then put on his emergency flashers. A wheel rolled across the road. Melissa and I see the trailer veer to one side, its weight on its right side wheels yet still traveling at an alarmingly high speed. A flurry of wood chips and dust blew across the road.
Alex pulled the van over onto the side of the road and I behind him. Other vehicles behind us pulled over, too. I saw Steve and Erika jump out of the van and head down into the ditch on the side of the road. Their van had blocked my view, but as I got out while Melissa was calling 911 on her cell phone, I saw the SUV on its side against a tree down the embankment. I stayed back, seeing that there were quite a few people already helping out and nervously paced by our cars.
I glimpsed Erika holding a big dog by his leash and a woman helping a young boy to a car. The boy was holding his arm, his eyes as big as saucers, looking stunned and confused. My family came back to report that, except for minor scratches, the father, mother, two sons, daughter and dog were fine. The trailer was in bits and pieces all over the road, the SUV on its side against a tree, yet everyone was alive.
We drove more carefully to our hotel destination for the night in Minnesota. Our traditional stop for the night there was a hotel by the railroad tracks (the "kids'" room had earplugs on their nightstand for the nightly train whistle), next to the Northwoods Restaurant. The Moose Drool beer tasted ever so good with our hot meals.
The next morning we headed north through International Falls, Minnesota, where we crossed the border into Canada. Once across the border the scenery changed almost immediately to wilderness marked by many lakes and great boulders, forests of pines, and hardly any houses anywhere. The immense power of glaciers thousands of years ago had shaped and shaved these stone walls.
On top of these stone walls were t-shaped towers of stones pointed us in the direction we must travel, something the Native Americans had started a long time ago and typical in this area. I found myself scanning the woods constantly, hoping for the sight of a bear, a moose, a bobcat or deer, something we have seen on other trips, but nothing this time.
At last, we roll into camp and are happy to see that it looks unchanged. A few trees are missing from a big storm about a year ago, but our cabin is the same. We are greeted with a big hug from Herby but also by Molly, one of the two yellow labs patrolling the camp. Molly made herself comfortable in our cabin and it's apparent that she won't be leaving anytime soon. The other lab Tessa showed up to play fetch until our arms gave out after two hours of tossing sticks by the lake.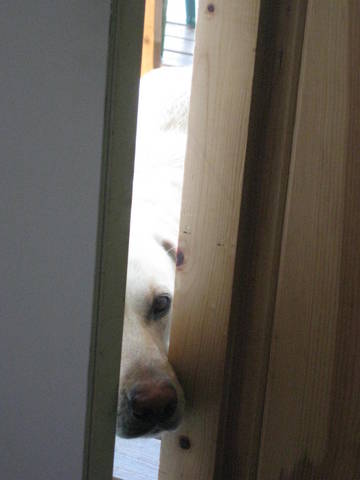 Alex and Steve got the fishing poles ready for the morning. A few mayflies stuck to the railing, walls and screens of the cabin—a bad sign. The fish love to eat them and if this is the time for them to hatch, the fish will have had their fill. At nightfall we all gathered at the lodge where Herby welcomed all the new arrivals and offered fishing tips.
Our first breakfast at camp—and the chef remembers that the women ask for half helpings since the servings are so huge. It's pancakes and sausage and even just one pancake fills up our plate. And it's as good as I remember!
Lunch is usually packed for us, which includes a sandwich, chips, fruit and either cookie, muffin or pudding for dessert, but for our first day we requested a shore lunch. That means catching our own lunch and having the guides cook it for us. There is nothing more delicious and fresh, out on an island on Eagle Lake, than just-caught fish cooked over an open fire.
Off we go with our fishing guides, motors roaring across the lake, hair flying, islands, rocks, pelicans, loons, pines and more pines and birches and more rocks and boulders flying by us to either side. Yes, here we go!! Pole in one hand, camera in the other.
When our two boats meet at an island to unload our catch of the morning, I had a fish story to tell. I had caught a walleye that wasn't that big and was reeling it in, when a big northern pike come roaring up and bit down on my walleye. I gave it a big tug and I had it hooked. Wow, my first big catch and I saw the cycle of nature live, big fish catching little fish and me catching them both! I had my photo taken with my catch and slipped the fish back into the water for someone else to try and catch.
We all sat to watch the guides fix our lunch. Danny cleaned the fish while Scott cut up the onions and potatoes and warmed pots of beans and corn on the grill over the fire. Our family wasn't the only one watching this with a hungry eye. A couple of gulls noted the activity and waited for Danny to throw the bones and skin away where they could eat them. Scott took a small filet, peppered it real good and tossed it to the gull. We watched as the gull nabbed it, then washed it in the water, dipping it over and over again, before eating it. He took a taste … nope, too much pepper and dunked it again until he had washed all the pepper off. Our entertainment for lunch.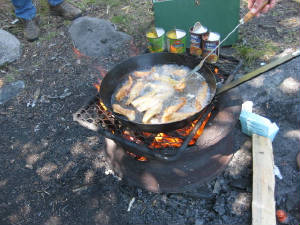 After lunch we went back out on the lake for more fishing. Our bellies full, our fishing efforts were half hearted and our guide reprimanded us. Back into the swing of things, and the walleyes were soon caught and put in the water bin to take back to camp to be frozen and taken home.
After dinner back at the camp, the younger generation, not being as tired as the older, would go back out for some more fishing with one of the younger guides, Danny or Travis. Steve and I did go out with Herby one evening to try for the forever elusive Musky. I could only try for that Musky for a couple of hours before my arm got tired from casting the heavy lures. On our one night out, I did bring one to the surface and then I knew what all the fuss was about.
It was dusk and I'd been trying for about an hour, my mind wandering, gazing at the beautiful colors of the clouds, the pale sliver of moon, taking a break to shoot a couple of photos. Picking up my pole again, I cast my lure, a funny one that made swishing noises like a baby loon trying to swim, when out of the deep, like a submarine slowly rising to the surface, there she was.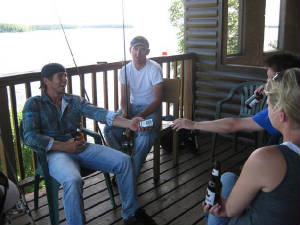 I could only mutter, oh shit (funny how the swear words slip out so easy at such moments), and stare while trying to steer my lure closer to her. But I was too close to the boat and she just turned her tail and disappeared into the depths. Wow. That was one big, beautiful fish.
Other nights, we would gather in our cabin or the lodge and play cards. More often than not, Molly or Tessa, the two labs, would come along. The guides would join us if they had no other plans. The older guides had families to go to but would join us for a beer after we got back from our daily fishing, before dinner. Stories about the day's catches or near catches would be rehashed with theories discussed about what could have been done differently. Photos of young children of the older guides were passed around and we caught up on our four years since our last visit.
Monday started out with a rainbow. A good sign. But after breakfast, it was raining hard. We all suited up in our rain gear and headed to the dock. Off we headed trying to outrun the rain.
Melissa and I were with the guide named Travis while the other three were with Mikey. Mikey was the Musky guide and the more serious fishermen went with him. I was told that he was able to keep out of the rain. Travis took us walleye fishing, but I guess those fish were where the rain was. Both Melissa and I would look at Travis when the thunder would roll in the distance with questioning looks and he would just smile his toothy grin and say it was too far away and that was why we were wearing rain gear.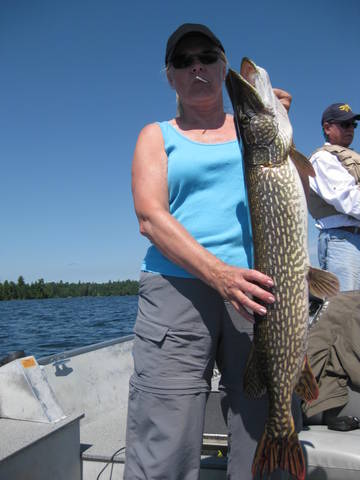 Daina's fish
Finally the sky cleared and the layers of warmer clothes came off. I had not caught anything in some time when suddenly Travis jerked up on his pole hard and walked it over to me. "Here," he said. "It's a big one!"
At first I said no, it's his fish, but he insisted and I took over, coaxing and reeling it in. And yes, it was another big northern pike. Travis took a photo of me with the fish, even though he had actually hooked it. In my hurry to hang on to it, I punctured one of my fingers on its sharp gills. Photo taken, fish released, Travis used his RN skills and cleaned and bandaged my finger while teasing me mercilessly about my ineptness. But I just shrugged and smiled. It was nice to be on the receiving end of such pampering.
Sitting on the balcony of our cabin after dinner we noticed the sky getting dark. We stood up to watch the storm come in. Gray clouds and rain whipped across the lake. The winds swirled around us, the trees danced and swayed and the rain pounded down. We retreated inside the cabin and watched in wonder the fury of Mother Nature. Finally the storm calmed and the sky turned a tender pink. Why do the clouds up here look so pretty and seem close enough to touch? Is the sky closer up here?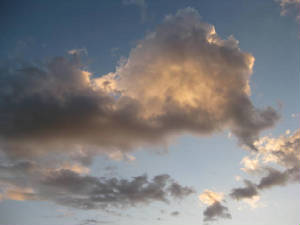 The following day, Erika and the boys took off in a float plane to a remote lake. Melissa and I stayed back to sleep in a bit and then head out to snap a few photos. Neither one of us likes to fly and these little planes dip to see moose and bear closer for the passengers, which makes my stomach flop.
Breakfast with coffee was delivered to our cabin and Tessa peeked in the door to try and lure us out to play. But we grabbed our cameras and headed west to Kenora and the Lake in the Woods, about an hour away. We walked the little town for a bit and had lunch in the little local brewery. We asked the waitress for directions to a hiking trail and set out to the Lake of the Woods.
Near the trailhead, a couple of young boys on their bikes stopped to warn us that about 100 meters up the trail many trees had come down in the storm. Melissa and I looked at each other and shrugged. How far could a few meters be? We're from the States, what do we know of metrics! We head up the trail, but we do soon find a downed pine tree. Not to be discouraged, we went through and under, but further down the trail there were more and more trees down. We had to give up and go back.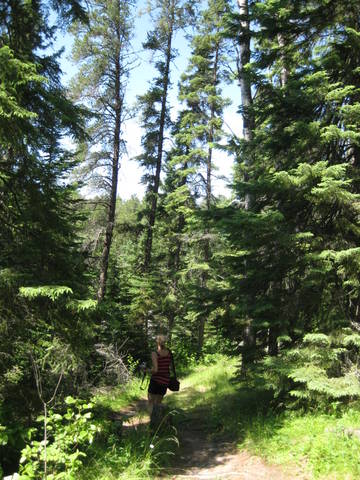 Later we found out at the local gas station that the storm we witnessed last night caught Kenora worse than us and many trees were down and electricity out in many areas. We knew of another place a little ways back, down a side road that we had glimpsed other years—a State Park and through it, the Rushing River. Grabbing our cameras we trekked out to the river and started snapping. Beautiful! The stately trees, and under them, scattered daisies, lupines, irises, buttercups and bluebells splashed the horizon with color.
Another day of fishing with Danny and my son Alex. A loon follows our lure. We try fishing by a waterfall where some years back Danny helped me catch a big northern. Heavy cloud cover started to roll in. Oh no, another storm?
We know to always have our rain gear with us, even on the brightest, clearest mornings. Steve had handed us our bag this morning and said our rain gear was in there, so we grabbed the bag and pulled out two jackets and one pair of rain pants. Alex, where are your rain pants? Danny pulled his on and I hurry to get mine on when the rain started to pelt us. Poor Alex! No rain pants for him.
We turned our backs to the wind and rain and hoped it would be over soon. The rain drops get bigger and bigger and suddenly the rain has turned into hail. We duck and cover our heads. It actually hurts, but we are laughing at disbelief too hard to care.
Poor Alex. When the rain and hail finally stopped, his jeans were soaked. Danny offered him his rain pants now that it had stopped raining while Alex pulled off his jeans to hang up on the net to dry. NOW he offers his pants!
We decide to do some lake trout fishing since that is pretty easy. Just throw the lure in the water and troll, letting the boat do the work till you hook one. We're feeling lazy after being pelted by ice and rain. Another storm rolled in and Alex had to give up the rain pants to Danny, who threatened to chase him around the boat if he wouldn't give them up. Right then we hooked three trout. So there we are, each of us hauling in a lake trout, Alex in his rain coat and boxers. But we did get our fish and I got my photo and we all got a great memory and photos.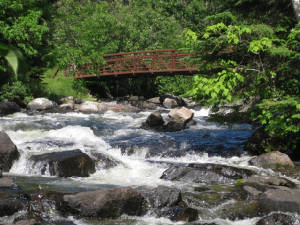 Later, on one of the outlying lakes called Ghost Lake, the women go with Danny while the men spend a day trying for Musky with Cal. It's a small but clear lake, and we can see to the bottom even at 15 feet. This lake doesn't get fished much so Danny takes us there to try our luck. It's a good small mouth bass lake which can be fun to fish because the bass jump when caught.
We found the mayflies had hatched here and there were piles of them all over the lake. The fish had to be full. We stood and looked into the deep and could see them: bass, perch, northern pike, walleye. It was like standing on top of an aquarium and just dropping our lines.
At first nothing would bite. We tried another spot. A bass took the bait, and when one was caught, we watched many follow to see what the fuss was about. We pulled them up out of the water, fat and big. Before long, I was standing in a pile of perch. Danny kept a couple for bait and we moved to another spot. He put a perch on the hook and we watched as a lazy northern swam by and eyed it. Finally it couldn't resist and bit down on it, just like a dog with a bone, with the tail out one side of his mouth and the head out of the other side, and Danny hooked it. Didn't seem fair to be fishing when it was so easy!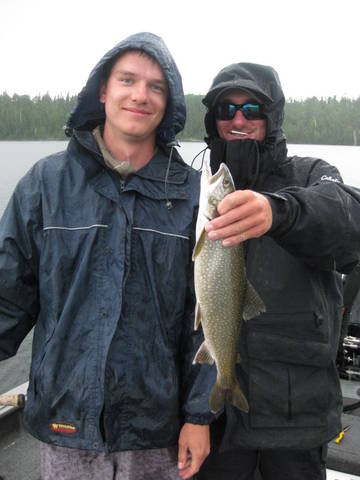 Our last day. Funny how at home we all love Friday—TGIF! The weekend is here! But here, our faces were glum, we were sad to see it over. We split the day with Steve and me fishing one last time for Musky with Scott, but only see one 50-some incher, but no catch. The kids went with Danny for walleye and pike.
And on my final day, Danny voted me the MVP of fishing because I finally got it after all these years of fishing—you don't drop the minnow to the bottom and leave it there. You reach the bottom and then pull up about a foot and let the minnow swim to attract the fish. I pulled in one fish after another, after another. So this is how it's done!
Daina Bowman is a business owner together with her husband in the Chicago area, but keeps her country heart alive by trips north. She is the mother of three adult children. She never writes but she loves fish, eating them even more than catching them. She and hubby plan to retire to the Upper Peninsula of Michigan.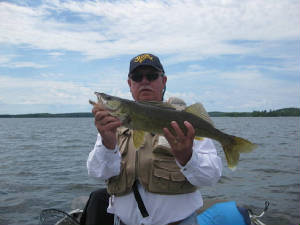 ŠAll materials, print, artwork and photography on this site are copyrighted and not to be reprinted without written permission by The Smoking Poet.
Feedback, questions, ideas? Email thesmokingpoet@gmail.com